Mission
Emerge Athletics is a performance and fitness organization. Our mission is to increase performance while reducing injuries
for
each of our athletes. This is achieved by tailoring programs specific to each sport or activity and the movements involved.
Philosophy
Our philosophy is that each program, each drill, and even each movement should have a goal. Time and movement efficiency are key to our programs as they are in most endeavors. "Train with a purpose, train like a champion!" While we get results, we do not force our students to do endless repetitive drills which they will dread. It's about finding something that you enjoy so that exercise is not a chore, but something you will love.
No Egos
We pride ourselves in our performance but when it comes time to train, egos are checked at the door. Emerge students enjoy a family-like atmosphere where we push and bolster each other to perform our best. It's an enjoyable experience, however our training is hard work which would not be possible without the support of our teammates.

Coaches
Scott Bitterman - Head Coach

Scott is a Strength and Conditioning Specialist with the National Strength and Conditioning Association. He holds a master's degree in Physical Education and Sports Sciences from Hofstra University and has expereince in the medical field. His specialties are Athletic Performance, Team Training, Rehabilitation, and Weight Loss.

Learn more about Scott
Desmond Ware - Coach

Desmond is a fitness professional who holds certifications in Sports Nutrition and Senior Fitness and is a USA Boxing Certified Amateur Boxing Coach. His specialties are Agility Training, Plyometrics, Boxing, Reactive Training, Dynamic Flexibility, and High Intensity Interval Training.

Learn more about Desmond
Powered by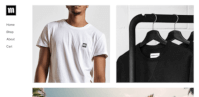 Create your own unique website with customizable templates.